Elaine's Movie Review: There Will Be Blood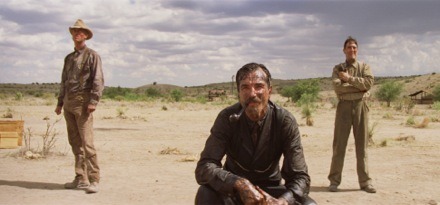 Paul Thomas Anderson's There Will Be Blood is one of the best movies I've seen in a long time.  It's a Hitchcockish film set during the early 20th century about Daniel Plainview (Daniel Day-Lewis), a silver miner turned oil tycoon that uproots his son H.W (Dillon Freasier), and sets off for Little Boston, where he hears that oil practically seeps from the earth.   Plainview begins to grow his fortune by scheming his way into cheaply buying the land from the residents of Little Boston.  He starts by buying up the home of preacher Eli Sunday's family, and moves on to obtain the rest of the town.  Plainview's wave of luck soon wanes as the film progresses, and his true character slowly surfaces.
The first thing I noticed about There Will Be Blood was the sound design.  It's something that many filmmakers don't focus on anymore, but can really make a film stand out.  There is no dialogue for the entire opening of the film, but every sound heard is meticulously placed.  I loved the ominous feel of every scene, brought on by both the superb filmmaking, as well as the flawless acting.  Keeping the film interesting, each character has something about them that the audience can't quite figure out.  The psychology of the film is unique and Anderson's pacing and attention to detail are, as always, as perfect as perfect gets.
There Will Be Blood is an example of great American filmmaking, and will undoubtedly fit Anderson in between Orson Welles and Kubrick in film school curriculums of the future.
/Film Rating: 10 out of 10