Kevin Smith Eyes Supporting Cast For Zack And Miri
Kevin Smith has announced the supporting cast for Zack and Miri Make a Porno, kinda. Actually, he's uploaded a bunch of photos of eye close-ups as a tease. The View Askew fans are on the case, trying to match up headshots to the teaser photos.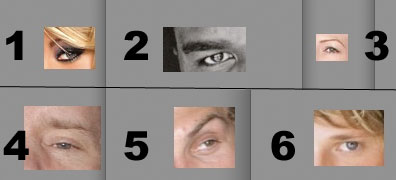 Who are these six actors/actresses? Find out at least four of them after the jump.
1. Pornstar Katie Morgan
2. Craig Robinson
4. Jeff Anderson
 5. Jason Mewes
Everyone is still unable to confirm #3 and #6. Top guesses so far have Traci Lords as #3 and Jamie Ball or Steve Zahn as #6. We'll update the story when we have final confirmation.
Smith did confirm that while the film might feature a pornstar (#1), that Zack & Miri do not approach a pornstar for advice in the movie. Kevin says that "Nobody in the cast is playing themselves. Everyone is playing a character."
What do you guys think of the supporting cast? Anyone have a better guess for #3 or #6?