Elijah Wood Talks The Hobbit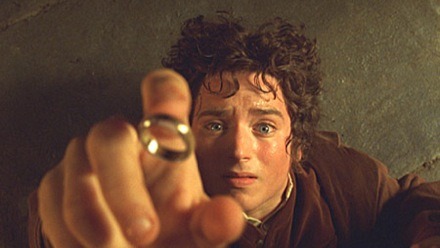 While on a trip in New Orleans, a scraggly psychic informed me that my moderately large eyes leave me perceptible to pranks and evils. If they were a little larger, I wonder, might I have been cast in The Lord of the Rings and now basking in millions? Elijah Wood, taking a break from his steady animated voice work, tells MTV that he would "love to" be involved in the recently greenlit "mystery meat" film thought to bridge The Hobbit to the LOTR trilogy.
"Nothing was really written with Frodo involved in it. That was sort of an ancillary tale outside of 'Lord of the Rings.' I can't imagine that they [screenwriters Jackson, Fran Walsh and Philippa Boyens] would write great reams of information regarding my character," he said of necessary invention outside of Tolkien's established canon. "But if he [Frodo] should show up, it would actually be the perfect way to revisit because it could be small enough that I could go back and have a nice sort of reunion with the memories that I have of the experience."
Whether the "sequel" following The Hobbit is the ferry that binds all remains speculation, as New Line Cinema has not confirmed specifics since the deal was made in December for Peter Jackson to executive produce both movies. Wood, however, apparently knows the dilly, and it resides in his email account.
"I haven't spoken to [Peter Jackson] directly about it [but] I've e-mailed him, and as far as I know the two films that they're doing, one will be 'The Hobbit' and another will take place between the 60 years that happened between 'The Hobbit' and 'The Lord of the Rings,'" the once and future Frodo enthused to MTV News, possibly confirming rumors that the second planned film would not be a Part II, but instead a narrative bridge."
And how does he feel about this joyous reunion between Jackson, New Line and Tolkien? Well, he's giddy with pride, anticipation and opinion.
"It's a great triumph [that Peter is involved.] I think that's really important that the same team that worked on the [earlier] films [work on 'The Hobbit'], the same effects team, that it be shot in New Zealand. I think that it's important that Ian McKellen is cast as Gandalf, just so that there's a synergy between the films," he insisted. "I think people want it to exist in the same world. So at least now we are assured that it will be done through that same lens, which is great. It's exciting."
No info or opinions from the Radio Flyer star on the 3D rumors. I couldn't imagine McKellen not being included under Jackson's eye, and it'd be cool to see Frodo pop up as well, almost expected.