Lionsgate Gets Conan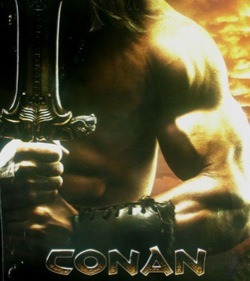 Nu Image/Millennium Films has inked a deal with Lionsgate for the North American distribution rights for a new film series based on the Robert E. Howard-created character Conan the Barbarian. The new film will be written by Sahara scribes Thomas Dean Donnelly and Joshua Oppenheimer. So if you had any hope for this new action fantasy epic, go rent A Sound of Thunder (or better yet, don't).
Conan was created long before the original 1982 movie was produced. The original character was created by Robert E. Howard in a series of fantasy pulp stories published in Weird Tales in the 1930s.
When the project was set up at Warner Bros, the studio pitched the project to Matrix creators Larry and Andy Wachowski, and Robert Rodriguez. The studio eventually had to pass on Rodriguez, who was interested, after he quit the Directors Guild of America so he could co-direct Sin City with Frank Miller.
The producers hope to begin production later this year, but a start date will depend on when a screenplay can be completed. And if you didn't know, the screenwriters are currently on strike. But Nu Image/Millennium chief Avi Lerner is currently in discussions to make an individual deal with the WGA similar to the deal made with United Artists.