Amy Ryan And Greg Kinnear Join Paul Greengrass' Green Zone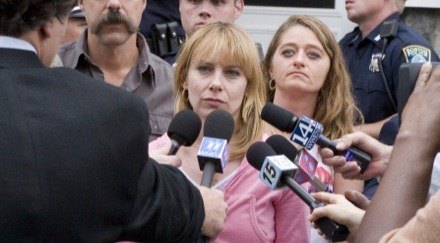 "For the last time, I'm not Traci Lords"
War films were notorious for not connecting with audiences (and critics) last year, but the studios seem determined in 2008 to push one or two through to leave an indelible mark for generations. For one, I am glad to see such resilience on the part of Hollywood. The best of these films will be the primary way kids in the future come to gage how much impact events like 9/11, the Iraq War, and the War on Terror had on our current culture. Sadly, it's not the same with music. Back when I discovered Vietnam films like Full Metal Jacket, Platoon, The Deer Hunter, and especially, Apocalypse Now they informed my nascent political views, creative sense, musical tastes and were like tabs of LSD compared to my AP history books. Even if none of the new war films come to be labeled a masterpiece, films like No Country for Old Men and There Will Be Blood will be appreciated as time-capsules that bottled up our current zeitgeist and anxieties, and stared into the soul of America to see nothing but a black, oily abyss. And then there's I Am Legend and Cloverfield, apocalyptic popcorn movies that subversively toyed with the modern death drive we all sensed popping into high gear this decade.
Sorry, I need to turn down Black Sabbath's Sabotage. Per a definitive Iraq War film, Paul Greengrass' Imperial Life in the Green Zone is building up its box office armor with a strong cast that now includes Amy Ryan, hot off Gone Baby Gone, and Greg Kinnear (Talk Soup) in addition to Matt Damon (Matt Damon).The film's title is lifted from the nonfiction book by Rajiv Chandrasekara, with the author and Greengrass co-writing a fictional screenplay set in Iraq's Green Zone, the safe zone where U.S. troops, officials, media, diplomats and Kid Rock reside.
Damon will play a CIA officer on the hunt for traces of WMDs, with Kinnear also playing CIA. Ryan's character is a NY Times reporter sent to Iraq to see what's what. No word on who will play Curveball, if applicable. I'm sure Horatio Sanz is available. Greengrass seems to exercise the semi-topical Bourne installments as a springboard for timely films like this and United 93; he's also attached to They Marched into Sunlight, which reportedly focuses on the uproar of college students circa the Vietnam War. Imperial Life in the Green Zone is scheduled to hit theaters in 2009.