Movie Critics Discuss No Country For Old Men Ending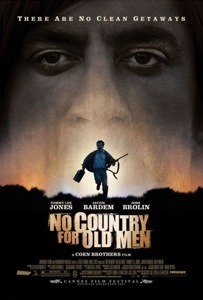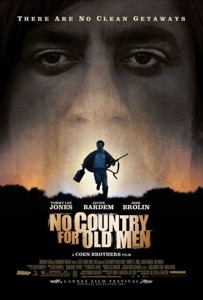 Miramax has pooled together a nice selection of film critics and personalities from the Internet for a winding discussion over the ending to the studio's acclaimed Cohen Brothers hit No Country for Old Men. It's an enjoyable freestyle conversation featuring Premiere's Glenn Kenny, Ain't It Cool's Harry Knowles, Rotten Tomatoes' Jen Yamato, Jim Emerson of RogerEbert.com and moderator Elvis Mitchell. Next time, I hope they invite /Film, but I'm glad to listen this go around, because NCFOM is the perfect film to listen to others' bat around broad ideas ranging from comparisons to The Seventh Seal to the symbolism of blood and feet in the film to, yes, the meaning of life (sorry, it proved elusive). You can listen to the chat here. And if you need a recap of the film's ending, click here for an audio recording.
For those of you who have seen NCFOM, do you sense the film becoming greater and more important in your mind as time wedges itself between your first viewing? I'm still not sure if it deserves to win Best Picture, but I have found increasing appreciation for its interpretative nature and dead quiet yet muscularly stern messages about life and death. I'd almost compare my memory of the film to a memory of sitting alone on an empty beach just thinking and listening. The ending certainly plays into this sort of wrinkled, survival Zen.
In regards to the Miramax link above, I admit I rolled my eyes once. The surprise expressed by the roundtable at the sheer thought of many viewers being surprised at, with some even [gasp] disliking, the ending is ridiculous. C'mon. There is a reason why you guys and gal are together talking about it. The Cohens meant to provoke a transcendent resonance with its off-guard timing, and comparisons to a certain pay-cable show's are not out of line (down to the modern outlook of men, nature and the unknown at large).
For those cautious of spoilers, beware the comments section below.