Witherspoon Refuses Sex Scene With Vaughn In Four Christmases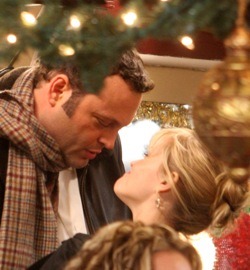 Barrack and Hillary, Kayne and Fiddy, Finke and Poland: Shall we now offer Vince Vaughn and Reese Witherspoon memberships to the make-up-and-make-out-already club? It appears we shall, as yet another report from the set of December's Four Christmases has the bright-and-grizzled stars clashing and disrupting the set, this time over (not) filming a sex scene. Back in December, the New York press ran with a source that claimed Witherspoon was livid with Vaughn's scratch-and-act work ethic and his tendency to brush off her requests to block out scenes. And what's worse? The two are co-producing the film. Is it just me? Did Jambi need to be carted into the offices of their agents to predict the sheer incompatibility here?
I'd leave this entire news item to Perez, but the director of the holiday comedy is Seth Gordon, who crafted the second highest rated film of last year (doc- or otherwise) with The King of Kong: A Fistful of Quarters. When I interviewed him in September, Gordon said he was lucky that the formidable icy stare and big hair of videogame champ Billy Mitchell didn't haunt his dreams (though a few of his friends hadn't been so lucky). Perhaps Mitchell, who remains disgruntled over his portrayal in Kong, has cast his stare onto the Hollywood set?
Gordon went on to say that Christmases would not be a cookie-cutter yuletide studio "comedy" like Deck the Halls or Christmas with the Kranks, as some sites have snarkily pegged it. With Jon Favreau, Robert Duvall and Sissy Spacek on board, it would seem to aim higher. But if the infighting continues, the film's potential audience will be able to see the bad buzz…from space.