Michael Bay Brags About HD-DVD's Inevitable Death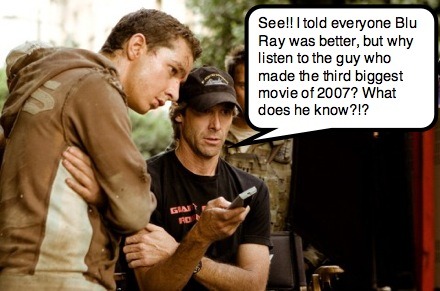 You didn't expect Michael Bay to keep quiet about the recent developments in the DVD war. If you haven't been keeping up, Warner announced their exclusivity and New Line followed. Bu-Ray owns 70% of the studios, which puts the format as the likely winner of the war. When Paramount/Dreamworks announced their exclusivity with the competing HD-DVD format, Bay was very vocal against the decision (at one point even publicly quitting Transformers 2 over the whole deal). Well Bay is back, and here is what he said:
"Well another studio down. Maybe I was right? Blu ray is just better. HD will die a slow death. It's what I predicted a year ago. Now with Warner's down for the count with Blu Ray. That makes it easier for Wal-Mart to push Blu Ray. And whatever Wal-Mart pushes – wins. Hd better start giving out those $120 million dollars checks to stay alive. Maybe they can give me some so I can give it to my Make-A-Wish charity, just to shut me up. Have faith people Transformers will come out in Blu-ray one day!"
In other news HD-DVD canceled their previously scheduled CES press conference after the recent announcement.