The Year Of Getting To Know Us Movie Trailer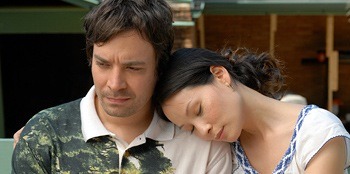 Patrick Sisam's The Year of Getting to Know Us premieres at Sundance, but an early trailer (with a different title – Rocket) has popped up online.
Jimmy Falon stars in what Sundance describes as a "darkly comic exploration of the classic dysfunctional-family dynamic" and "a quirky exploration of how the people in our lives make us who we are." Christopher Rocket escaped his sheltered life as the only child of a golf-obsessed father and eccentric mother in Florida to become a commitment-phobic successful freelance writer in New York. The story intercuts between Rocket's "less-than-normal '70s childhood and present-day adulthood" as Christopher returns home to reconnect with his estranged comatose father. Lucy Liu, Sharon Stone, Tom Arnold, and Illeana Douglas co-star.
The premise sounds strong, and Falon has shown hints of a promising dramatic turn in the past (Almost Famous), although this trailer is trying to market the film as a mainstream feel good movie, which it clearly isnt. Watch the trailer after the jump.
[flv:http://media2.slashfilm.com/slashfilm/trailers/rocket.flv 402 246]
The Year of Getting to Know Us premieres at the 2008 Sundance Film Festival.
source: WorstPreviews