Cool Stuff: Nintendo Wii Clerks Mod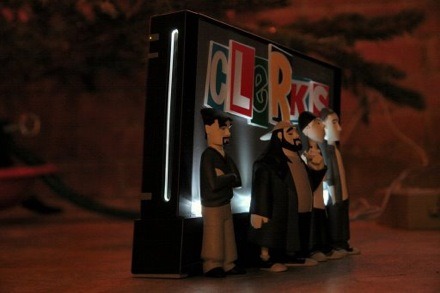 Ramon Stokes spent 60 hours creating this custom modified Clerks-themed Nintendo Wii. Stokes' company Morphon Mods was commissioned by Smith's friends "Ken, Zak and Joey" to create the Wii as a Christmas Gift for the Clerks filmmaker Kevin Smith.
The Wii was painted using flat gray scale colors to match the black and white clerks characters. The stand features the main characters each back-lit with two "stage lights" that beam up to highlight the custom 3D Clerks logo. The opposite side has a specially back-lit logo of his production company. Finally, the controllers were painstakingly hand painted letter by letter to feature his name one controller and his most famous alter ego on the second. As a most respectful nod to his writing, the font was meant to look like one an old typewriter might use.
Check out a few photos below, and more on Picasa.