First Look: Baby Mama
Universal has sent us the first photo from the new comedy Baby Mama, which stars Tina Fey, Amy Poehler, Greg Kinnear, Dax Shepard, and Sigourney Weaver. Writer turned director Michael McCullers' (Austin Powers 2 and 3) feature film debut tells the story of "two women, one apartment and the nine months that will change their lives." Yeah, doesnt sound that interesting to me either.
Tina Fey is funny, and good to look at on screen, but her true talents are behind a computer keyboard. Her work writing SNL was a highlight of the show, and Fey wrote (er adapted) one of the best teen comedies in the last 10 years: Mean Girls (remember when Lindsay Lohan was still "family friendly"?). If Fey was attached as writer, than I'd have a lot more faith. But truth be told, Baby Mama was penned by the same guy who wrote both the 2004 big screen adaptation of Thunderbirds and Undercover Brother.
I received an email last month from someone who claimed to have seen a test screening of the film. This is what he said: "It's an average, decent comedy. Like Knocked Up but nowhere near as good." Take that for whatever it is worth. Check out the full photo and newly released plot synopsis after the jump.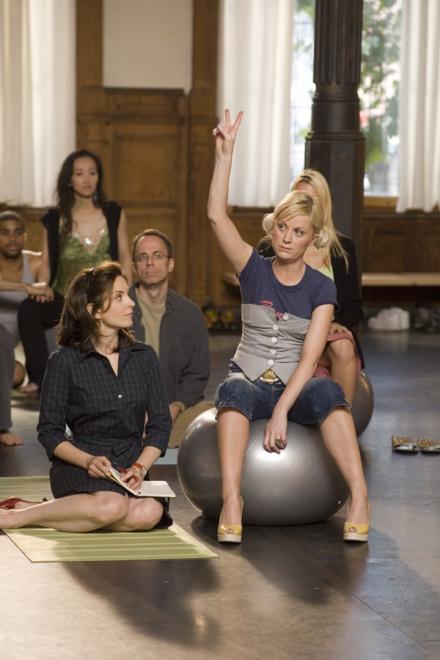 Click on the image above to enlarge. Here's the official plot Synopsis:
Successful and single businesswoman Kate Holbrook (Tina Fey) has long put her career ahead of a personal life.  Now 37, she's finally determined to have a kid on her own.  But her plan is thrown a curve ball after she discovers she has only a million-to-one chance of getting pregnant.  Undaunted, the driven Kate allows South Philly working girl Angie Ostrowiski (Amy Poehler) to become her unlikely surrogate.  Simple enough…
After learning from the steely head (Sigourney Weaver) of their surrogacy center that Angie is pregnant, Kate goes into precision nesting mode: reading childcare books, baby-proofing the apartment and researching top pre-schools.  But the executive's well-organized strategy is turned upside down when her Baby Mama shows up at her doorstep with no place to live.
An unstoppable force meets an immovable object as structured Kate tries to turn vibrant Angie into the perfect expectant mom.  In a comic battle of wills, they will struggle their way through preparation for the baby's arrival.  And in the middle of this tug-of-war, they'll discover two kinds of family: the one you're born to and the one you make.
Baby Mamma hits theaters on April 18th 2008.