What You Don't Know About A Christmas Story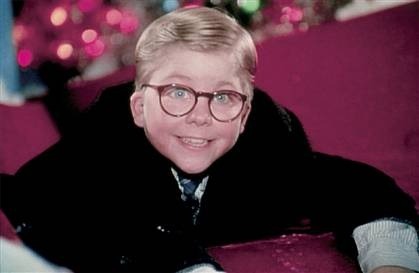 Every year A Christmas Story endlessly plays in the background in most family Christmas parties thanks to TBS. I know I've personally seen the film over 60 times, and its also the first film I remember seeing theatrically. But seeing and knowing are two different things. For example, did you know that Jack Nicholson was very interested in playing Ralphie's dad, but was never hired due to budgetary concerns? That's just one of the 11 things you might not know about A Christmas Story. Here are some other highlights:
Ralphie says he wants the Red Ryder BB Gun 28 times, that's approximately once every three minutes and 20 seconds.
A Christmas Story supposedly inspired the creation of The Wonder Years. In fact, in one of the last few episodes, Peter Billingsley appeared as one of Kevin Arnold's roommates.
And here are a few more interesting tidbits that Mental Floss left out:
Director Bob Clark made a cameo as a dim-witted neighbor, who marvels at the Leg Lamp from outside.
Author and narrator Jean Shepherd  makes a cameo as the irate man in line who directs Ralphie to the back of the line.
An elaborate fantasy sequence which featured Flash Gordon teaming with Ralphie to fight Ming the Merciless was reportedly filmed but dropped from the final cut.
And finally...
A sequel to A Christmas Story actually exists. Filmed in 1994 under the title It Runs in the Family. Based on other stories from Jean Shepherd's novels, the story takes place in Summer.
Ralphie is searching for the perfect top to use to beat the school bully with, the Old Man is in battle with their hillbilly neighbors, the Bumpus, while eagerly awaiting the discovery of the perfect fishing spot, and the Mother is attempting to collect all of the pieces of a glass china set at a local movie theater.
Shepherd returned as narrator, and Tedde Moore returned to play Miss Shields, but the rest of the cast was entirely new. Charles Grodin played the old man Mr. Parker, while Mary Steenburgen played the mother.  Macaulay's younger brother Kieran Culkin played Ralphie. The film was a mess, and faired poorly at the box office ($70,936). The film was also released under the title of "My Summer Story" on home video in an attempt to capitalize on the success of A Christmas Story.