WTF?! IndieWire's Top 100 Movies Of 2007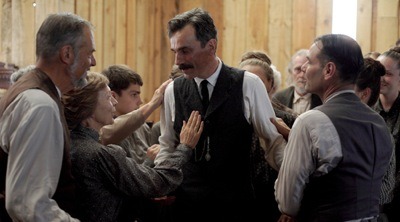 IndieWire polled "106 leading North American film critics," and they came up with the Top 100 Movies of 2007. Here is the top twenty films:
1. There Will Be Blood
2. Zodiac
3. No Country for Old Men
4. Syndromes and a Century
5. Months, 3 Weeks and 2 Days
6. I'm Not There
7. The Assassination of Jesse James by the Coward Robert Ford
8. Colossal Youth
9. Killer of Sheep
10. Offside
11. Black Book
12. Once
13. The Diving Bell and the Butterfly
14. Eastern Promises
15. I Don't Want to Sleep Alone
16. Regular Lovers
17. The Host
18. Southland Tales
19. Into the Wild
20. Ratatouille
While I do agree that Paul Thomas Anderson's There Will Be Blood deserves its place near the top of the mountain, the rest of these choices and placements seem very questionable. Usually the films on a majority poll are somewhat predictable, but this listing is chaotic. I'm shocked that Juno (which was critically acclaimed) appears at #97 while Richard Kelly's Southland Tales (which was trashed by both critics and moviegoers) ranks at #18. Ratatouille which was the best reviewed Hollywood movie of the year is ranked at #20?! Yet Syndromes and a Century is ranked #4?! I've been covering all the critic association awards, and the top critic's top 10 lists, and have never seen a mention of Syndromes and a Century.