Beware: Dwight Little To Direct Tekken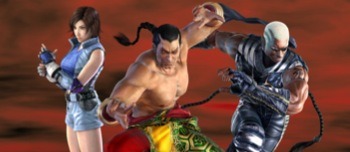 Dwight Little is directing the big screen adaptation of Namco's Tekken. Little is the guy responsible for crappy bargain bin titles such as Anacondas: The Hunt for the Blood Orchid and Marked for Death, which starred Steven Seagal. And the screenplay was written by Alan McElroy, the guy behind The Marine, Wrong Turn, and Halloween 4. Why is it that video game adaptations always attrac class-c directing and writing talent? With all the people working in Hollywood, their must be someone better that is willing to sell out for some good fast money.
According to Variety, the story "plays out as a science fiction story set in the near future, about a rebel who rises up against the Tekken Corp. to seize freedom for his people. It's a gladiator story, but the videogame has a complicated enough storyline that it provides the template for a martial arts spectacular."
Usually I would attempt to layout my argument against this movie, but I think the facts presented above are more than enough to convince you of this film's eventual disastrous fate. Principal photography begins on February 4th 2008 in Shreveport, LA.