Terminator 4 Details Revealed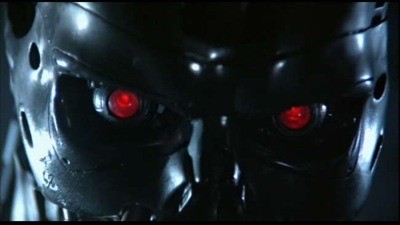 Our friend Devin at CHUD has a bunch of new details about the upcoming fourth Terminator film, Terminator Salvation: The Future Begins. Most of the information below will probably be revealed in the trailers and pre-release advertising, and is not all to spoilerish. But if you want to be kept in the dark, stop reading now. Here are the main details:
John Conner (played by Christian Bale in the new film) is NOT the main character in the fourth film, but will have a more sizable role in the Fifth movie.
The Main Character is a bad ass "Riddick"-like guy named Marcus (couldn't they have come up with a better name?) who wakes up on post-apocalyptic earth, around 15 years before the future shown in the original Terminator.
When the producers said that they are making a new trilogy, they aren't kidding. The whole thing is apparently mapped out.
Marcus is the star of the new trilogy.
No Actor has been cast as Marcus yet.
The action in Terminator 4 is described as "HUGE", including some battles with the T-600s.
The new story focuses on the degrees of difference between humans and terminator/human cyborgs.
You can read more on CHUD.