Andy Serkis In Tintin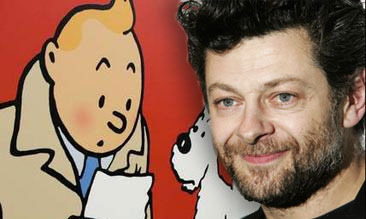 Peter Jackson regular Andy Serkis (you know, the guy behind the characters of Golumn and King Kong) has signed on to star in the upcoming Tintin trilogy. No word on what character (or characters) Serkis might play.  The film will be shot using performance capture technology similar to that used on Beowulf. And the completed films will be presented in digital 3D.
Jackson and Steven Spielberg are both set to direct one of the films, although the order isn't clear. Spielberg has said that the third film will either be directed in collaboration between the two, or by a hand picked third director. Rumor has it that Robert Zemeckis' name has been thrown around.
Filming is set to begin in September 2008.
Based on the classic comic-strip, Tintin follows the adventures of a junior reporter and his faithful dog Snowy.