Leatherheads Movie Trailer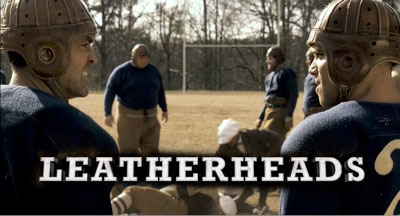 Universal has released the movie trailer for Leatherheads, a romantic comedy set in the world of 1920s football. The story follows the owner of a professional team who drafts a straight-laced college sensation in an attempt to legitimatize the sport, only to watch his new coach fall for his fiancée. Directed and starring George Clooney, co-starring John Krasinski, Renée Zellweger, and Stephen Root.
Seems a little zany to me, but I keep telling myself that this is the same guy who directed Confessions of a Dangerous Mind  and Good Night and Good Luck. Watch the trailer after the jump. What you you guys think?
[flv:http://media2.slashfilm.com/slashfilm/trailers/leatherheads.flv 470 254]
You can also watch the trailer in High Definition on Yahoo! Movies. Leatherheads hits theaters on April 4th 2008.