Clash Of The Titans Remake Director Announced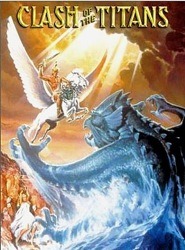 The list of the directors rumored to be involved with the remake of Clash of the Titans has included Sam Raimi (Spider-Man) and Robert Rodriguez (Sin City). The screenplay was penned by screenwriting legend Lawrence Kasdan, you know, the guy who wrote Empire Strikes Back and Raiders of the Lost Ark. And finally tonight, Warner Bros has announced the big name director attached to the project:
Steve Norrington.
Wait, Who?!??
You know, the guy who directed the horrible 2003 adaptation of Alan Moore's The League of Extraordinary Gentlemen. Yeah, I had no idea either. He also directed the original comic book adaptation of Blade, which was good (but not great).
The good news is that Norrington has a huge background in creature efects, which will serve a movie filled with with mythical creatures well. The bad news is, well, Steve Norrington is directing Clash of the Titans.
The original Desmond Davis film was an adaptation of the myth of Perseus which told his quest to battle both Medusa and the Kraken monster in order to save the Princess Andromeda. The movie is famous for its use of Ray Harryhausen's stop motion animated creatures.
source: Variety