David Gordon Green's Snow Angels Movie Trailer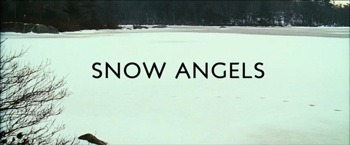 The movie trailer for filmmaker David Gordon Green's (George Washington, All The Real Girls) adaptation of the Stewart O'Nan novel Snow Angels is now online.
Snow Angels is one of those movies you either love or you hate. I saw the film last January at the 2007 Sundance Film Festival, and really took to it. In the days that followed, while riding the shuttle buses that transport the festival-goers around Park City, I had conversations with a lot of different people about this movie. And it was fun to hear such a varied reaction. The new trailer hints at the dark nature at the film which some moviegoers may have found "depressing." Oddly enough, Green is the guy who directed the upcoming Apatow-produced comedy Pineapple Express., which is a 180 from his typical indie dramas.
Watch the movie trailer after the jump.
[flv:http://media2.slashfilm.com/slashfilm/trailers/snowangels.flv 470 196]
Watch the trailer in High Definition on Yahoo! Movies. Here are clipping from my sundance review:
Sam Rockwell gives the best performance of his career. And Kate Beckinsale is better than she's ever been before.
Official Plot Description: Arthur (Michael Angarano) is in high school.  He plays trombone in the marching band.  He has become friends with, and is pursued romantically by, Lila Raybern (Juno's Olivia Thirlby), a pretty girl who is just as nerdy as Arthur.  Annie (Kate Beckinsale) used to baby-sit Arthur.  Today they work in the same Chinese restaurant where anyone can see how much they care about each other, even as their lives are pulling them in much different directions.
As Lila's affection for Arthur grows, so does the ardor with which she tries to express it.  At the same time, Arthur must deal with the fact that his parents (Griffin Dunne and Jeannetta Arnette) are splitting up.  Meanwhile, Annie's first marriage to Glenn (Sam Rockwell) has ended.  Glenn used to drink but has since found Jesus Christ.  Glenn lives with his parents as he tries to rebuild his life by getting a job selling carpet.  He also tries to re-connect with Annie as he shows up to visit their very young daughter.
A film for grown-ups, SNOW ANGELS is about a precise moment on a cold winter morning when Arthur's past collides with his future, and nothing will ever be the same.
Snow Angels hits theaters on March 7th, 2008.