Stephen Chow To Ruin The Karate Kid?!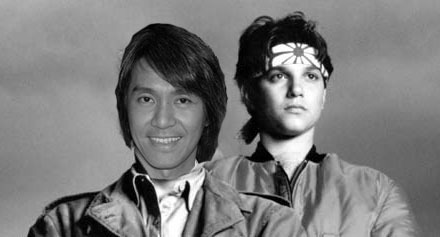 Why can't they leave the movies from my childhood alone? Months ago it was rumored that Will Smith's nine-year-old son Jaden was in talks to star in a modern day remake of The Karate Kid. The rumors were quickly denied by a spokesman for Smith. However it was confirmed that Smith's production company Overbrook Entertainment is developing a new Karate Kid film.
Moviehole now reveals that Kung Fu Hustle's Stephen Chow is now in talks to direct and star. Please god, say it isn't so! Chow would play the Mr. Myiagi role in the new film if he does sign on.
"I'm very fond of 'The Karate Kid' and would love to join in the remake project, no matter as a producer, director or actor", says Chow. "But it depends on my schedule. As you know, next year I will work on two movies, 'Dragon Ball' and 'Journey to the West.'"
Lets hope that Chow's schedule fills up quick. And don't worry, it gets even worse. Will Smith apparently wants to shoot the film in China. Please, someone, anyone, stop him.