New Get Smart Photos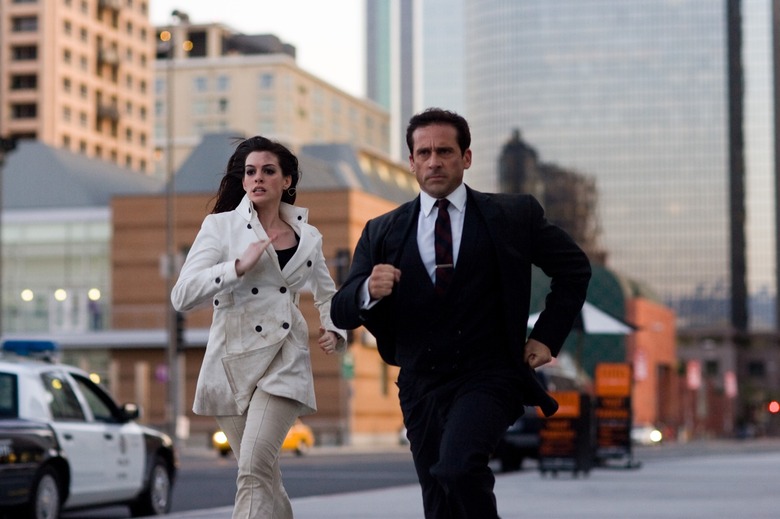 Warner Bros sent us two new photos from the upcoming big screen adaptation of Get Smart, starring Steve Carell and Anne Hathaway. Click on the photos to enlarge.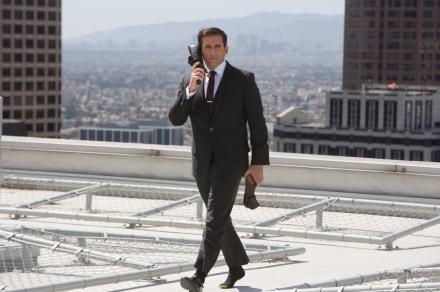 I'm sold on the trailer, and believe this could be the next Austin Powers. The few people I have spoken to who have seen the movie liked it a lot. I hear it's filled with slapstick humor, which might be too much for some (I'm a little weary). The modern day take also features a bunch of Bush jokes, which might not play in Middle America.
Official Plot Synopsis: Action Comedy.  Maxwell Smart (Steve Carell) is on a mission to thwart the latest plot for world domination by the evil crime syndicate known as KAOS.  When the headquarters of U.S. spy agency Control is attacked and the identities of its agents compromised, the Chief (Alan Arkin) has no choice but to promote his ever-eager analyst Maxwell Smart, who has always dreamt of working in the field alongside stalwart superstar Agent 23 (Dwayne Johnson).  Smart is partnered instead with the lovely-but-lethal veteran Agent 99 (Anne Hathaway).  Given little field experience and even less time, Smart-armed with nothing but a few spy-tech gadgets and his unbridled enthusiasm-must thwart the doomsday plans of KAOS head Siegfried (Terance Stamp). The movie also features: Terry Crews, David Koechner, James Caan, Masi Oka, Nate Torrence and Kenneth Davitian.Get Smart opens nationwide on June 20th, 2008.