Video: Eli Roth Interviews Josh Brolin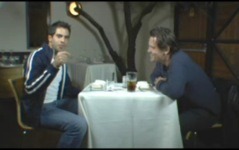 Director Eli Roth (Hostel, Thanksgiving) and actor Josh Brolin (Goonies, No Country For Old Men) sat down and had a conversation and MySpace shot it for their video interview feature Artists on Artists.
Josh Brolin tells the story of how he got Robert Rodriguez to shoot his audition tape for No Country, while Quentin Tarantino directed. Roth talks about his experience meeting Joel Cohan, and unleashing fanboy praise upon him. Brolin discusses his very short conversation with 'The Brothers. They also discuss the value of test screening films. Roth talks about writing movies in long hand in public locations, advice he got from Tarantino. Roth also shares a couple of the ideas he wants to include in his upcoming film Trailer Trash. Brolin is left cracking up over some of the ideas, and verbally commits to starring in Farmageddon and Nascar Dog.
Watch the interview after the jump.