FightCast - Round 2: Speed Racer Trailer And The Golden Compass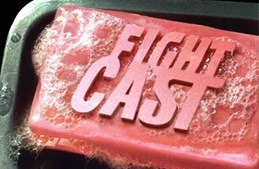 The FightCast has returned for Round Two. In this week's FightCast, we fight about the newly debuted Speed Racer trailer and The Golden Compass, two of the biggest topics of discussion heading into this weekend.
The very first trailer for the Wachowski Brother's adaptation of the Japanese cartoon Speed Racer arrived yesterday, and is getting quite a polarized response. Alex thinks it will revolutionize cinema, while Peter isn't impressed.
The Golden Compass hits theaters today. The fantasy adventure film based on the Philip Pullman novel is getting a mixed response. Peter enjoyed it a lot but had some problems, and Alex has a similar opinion.
This week's episode was again recorded over the phone. I'm still trying to convince Alex to record the podcast through Skype, for clearer audio. But again, if you're looking for high production value, look elsewhere. This isn't even a show, it's a conversation between two film geeks. The official website has launched – and for all future episodes and to subscribe to the podcast, head right to: FilmFightCast.com!