The Happening Movie Poster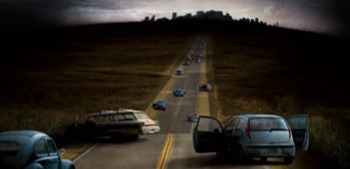 The teaser poster for M. Night Shyamalan's The Happening is now online thanks to ComingSoon. The poster features the cheesy tagline text "We've Sensed It, We've Seen The Signs, Now... It's Happening." Check out the full poster after the jump.
The movie stars Mark Wahlberg as a man who takes his family on the run, in an attempt to survive a natural global environmental crisis that presents a large-scale threat to humanity. Mother Nature is sick of our polluting ways and has decided that we must go. An invisible neurotoxin is admitted into the air which causes people to become suicidal. John Leguizamo and Zooey Deschanel also star.
I think I was one of the few people who enjoyed Night's last film, Lady in the Water. But that aside, I'm far from a fan. The Sith Sense and Unbreakable are great movies, Signs and The Village are the opposite. But I have faith in M Night. I think he now has something to prove. I know that the people who have read earlier drafts of the script have said that it's his best screenplay since The Sixth Sense. So take that for whatever it is worth.
Shyamalan's first R-rated effort will hit theaters worldwide on Friday, June 13th 2008.