First Look: The Punisher: War Zone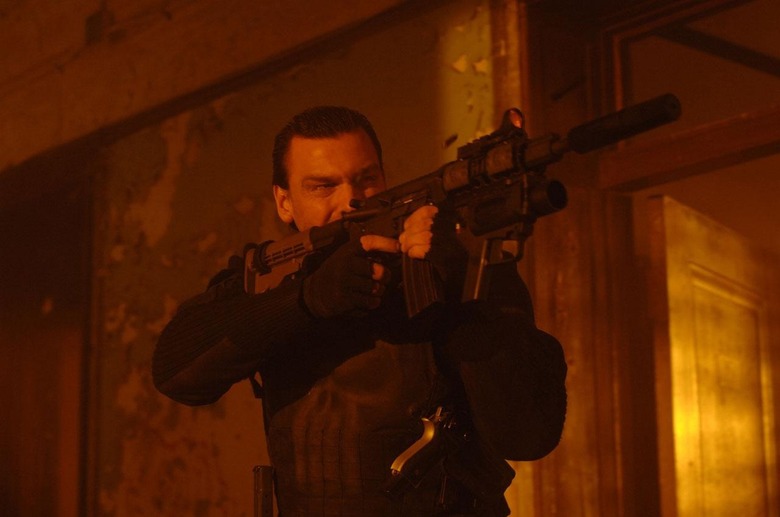 The photo above is our first look at Ray Stevenson (Rome) as Frank Castle aka The Punisher in Lionsgate's The Punisher: War Zone. Click on the photo to enlarge.
I've always thought that The Punisher would be one of the best comic book to film adaptations, however I wasn't a fan of the previous Thomas Jane film. I'm not entirely impressed by the photo above, and I'm not entirely convinced of Ray Stevenson as The Punisher (to be fair, I never watched Rome), but I do have faith in director Lexi Alexander (Green Street Hooligans).
Cinematical has an interview with Lexi regarding the film, here are some highlights:
"The one thing I concentrated on was to really really make it as close to the MAX series as possible. I think we really achieved it as far as the look, as well as the tone. When I look at the dailies that I'm getting, I seriously feel like I'm looking at a MAX comic book right in front of me."
"It's definitely going to be a Hard R. "
"I would say it's about 70% gunplay, and 30% hand-to-hand combat."
"I would say it's a complete different re-boot, just because neither one of the previous [films] were relevant. And with Castle, it's one story — the mythology stays the same — and I think I just have a very very different take on it. I was lucky to put it in the right environment, which was dark and cold."
Continuing his crusade to punish violent criminals in America, former FBI agent Frank Castle arrives in New York to take on a underworld boss who plots to take control of the underworld. The Marvel comic book adaptation co-stars Dominic West, Doug Hutchinson, Colin Salmon, Wayne Knight, Dash Mihok and Julie Benz.
The Punisher: War Zone hits theaters on September 12th 2008.
source: ComingSoon