Wanted Vs. Wall-E Vs. Valkyrie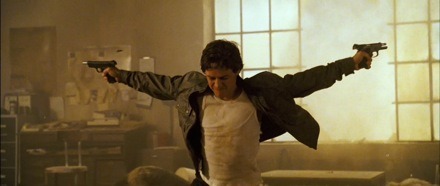 The first Wanted movie trailer was greeted with much ridicule online. The film was being referred to as a cheap "Matrix rip-off". Universal has now announced that they are moving back the release date from March 28th to June 27th 2008. The studio head is trying to spin this move as a bow of faith in the film property, saying "Having seen it, it is just the perfect summer property." I'm not quite sure I buy this, especially as I re-watch the trailer.
The Mark Millar graphic novel adaptation will now go head to head with UA's Valkyrie and Pixar's Wall-E. It seems like a bad day to release the film. I know the Tom Cruise movie isn't tracking well, but going head to head with a Pixar film (especially their first Sci-Fi effort) seems like a horrible idea.
Wanted follows a young man (James McAvoy) who finds out his long lost father is an assassin. And when his father is murdered, the son is recruited into his father's old organization and trained by a man named Sloan (Morgan Freeman) to follow in his dad's footsteps. Angelina Jolie, Terence Stamp and Common also star.