First Six Minutes Of The Dark Knight Revealed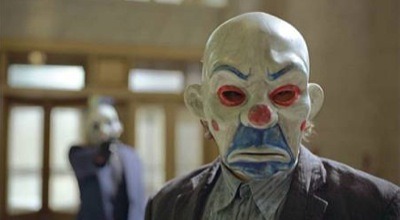 The first six minutes of The Dark Knight will debut in front of IMAX screenings of I Am Legend.  Shot with IMAX cameras, Nolan intended this six minute introduction of The Joker to function as a stand alone "short film." Christopher Nolan was in New York City to premiere the footage for select press. Alas, I'm on the other coast and was unable to attend the big apple screening. 
Wizard and UGO were in attendance, and have extensive descriptions of the segment for those of you spoiler hounds. I'm going to avoid the description as I want to experience it for myself in theaters. But here is a couple quick and easy hype quotes from UGO:
"Easily the best short film I've seen since Hardware Wars."
"Forget Nicholson, "The Laughing Fish," Caesar Romero, Mark Hamil and The Killing Joke.  Heath Ledger's Joker is THE definitive Joker. "