Cool Stuff: Back To The Future Flux Capacitor Replica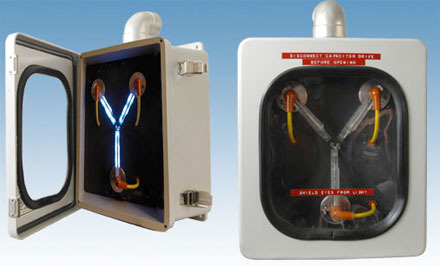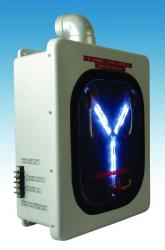 Without the Flux Capacitor, Time Travel would not be possible!
Diamond Select has begun taking preorders for a officially licensed Back to the Future prop replica of the Flux Capacitor (DeLorean Time Machine Not Included) from the 1985 classic Back to the Future. All you need is 1.21 jigowatts of electricity and 88mph, and you too can go back in time like Marty McFly.
The full sized replica (16" tall and 12" wide, 4 ½ pounds) features full light effects and adjustable power settings. Each Flux Capacitor features hand-numbering with a matching box, Certificate of Authenticity, and Care Instructions. The replica has a recommended price of $275, but I was able to find it on sale for 20% off ($220.00) on TFAW.com. I'm a hardcore Back to the Future fanatic, and a few years back I was actually considering buying a Flux Capacitor replica from a prop maker online for about double that price.
Diamond Select currently estimates a early May 2008 ship date, but you can preorder the product now on DiamondSelectToys.com or at a 20% preorder discount on TFAW.com.
Know of any geekarific creations or cool products which should be featured on Cool Stuff? E-Mail us at orfilms@gmail.com.