Casting Robert Zemeckis' A Christmas Carol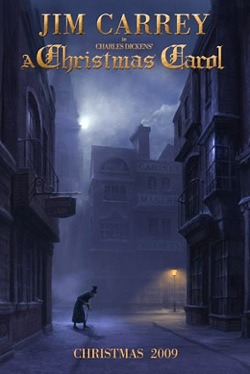 Robert Zemeckis has signed a bunch of new stars for his upcoming performance capture digital 3-D adaptation of Charles Dickens' A Christmas Carol.Robert Zemeckis revealed in the official Beowulf podcast that Bob Hoskins, Colin Firth and Gary Oldman have officially joined the cast. Robin Wright Penn also announced that she will also be involved in the project.
Hoskins, who will play Mr. Fezziwig, inadvertently and prematurely announced his involvement in the project before Zemeckis had made an official announcement, which I think pissed off some higher ups. And when the project was announced the studio denied that any deal had yet been made with him. But this is the first official confirmation of his involvement.
What we already know: Zemeckis wrote the script specifically for Jim Carrey, who stars as four different characters: Ebenezer Scrooge (at various different ages), the Ghost of Christmas Past, the Ghost of Christmas Present and the Ghost of Christmas Future. Tom Hanks (Bob Cratchit), Christopher Lloyd (Marley's Ghost) and Michael J. Fox (Tiny Tim) are also rumored to be involved in the film, but have yet to be officially confirmed.
And before you ask, I'm not sure if the teaser movie poster to the upper right is legit or fan made. The art makes me believe it's legit, the lettering makes me think it might be a fan creation.
While I see the potential of performance capture technology, and admire Zemeckis for pioneering the new form of filmmaking, I'm still not sold on the result thus far. The animation feels stiff, the people look like zombies, and the action looks like a highly rendered video game cut scene. And while I loved Beowulf for the 3D, I totally don't understand why someone would create a character (Angelina Jolie for instance) who looks exactly like the real actor. Doesn't that negate most of the benefits of the technology?
In Beowulf, I found Ray Winstone and Chrispin Glover's (who played Grendal) performances to be the most interesting. Maybe because the animators didn't have to concern themselves with making the animated characters look and move exactly like the performance captured actors. After all, animation is all about exaggeration of movements, and that's why it works.
Anyway, my point is that the performance capture technology has yet to deliver a product that couldn't have been made faster, cheaper and better looking using traditional film methods.  I think something like James Cameron's Avatar might accomplish this feat. And while I like the gimmick of Jim Carrey playing four characters, one of the characters at different ages (taking full advantage of the technology), the rest of the book is mostly talking and walking. And while I'll anxiously await anything Zemeckis will ever create, I just wish he would pick some more visual and cinematic stories for this new format.
A Christmas Carol will hit theaters on November 6th, 2009.
via: ComingSoon