Sundance 2008 Photo Preview: Part 3 - Spectrum


The line-up for the 2008 Sundance Film Festival was announced earlier this week. I just got my hands on a boat load of photos from the films in this year's festival. We actually have too many photos to feature in just one posting, so we have divided this feature into a few parts.
Our third segment in the series takes a look at the films in the Spectrum category. The list of films includes: Anvil! The True Story Of Anvil, The Black List, Kicking It, The Linguists, Made In America, Where In The World Is Osama Bin Laden?, Young@Heart, August, Baghead, Birds of America, Blind Date, Bottle Shock, Chronic Town, Goliath, A Good Day To Be Black & Sexy, Love Comes Lately, Momma's Man, Quid Pro Quo, and Red.
Also be sure to check out our Sundance 2008 Photo Previews for the Premieres and U.S. Dramatic Competition.
Check out the photos after the jump. Click on the images to enlarge.
Dramatic films screening in Spectrum are:AUGUST / U.S.A.
Director: Austin ChickScreenwriter: Howard A. RodmanCast: Josh Hartnett, Adam Scott, Naomie Harris.
An aggressive young dot-com entrepreneur struggles to keep his head above water as the bottom falls out of the market in August of 2001.
World Premiere
BAGHEAD / U.S.A.Directors and Screenwriters: Mark Duplass and Jay DuplassCast: Steve Zissis, Ross Partridge, Greta Gerwig.
As previously done in their last film THE PUFFY CHAIR, the Duplass Brothers explore the minutiae of relationship dynamics in this in-depth study of a group of desperate actor friends. And a bag. And a head.
World Premiere
BIRDS OF AMERICA/ U.S.A.Director: Craig LucasScreenwriter: Elyse FriedmanCast: Matthew Perry, Ginnifer Goodwin, Ben Foster.
Three siblings couldn't be more different, or more neurotic. But when they find themselves converging at the family manse, they become surprisingly indispensable to one another.
World Premiere
BLIND DATE/ U.S.A.Director: Stanley TucciScreenwriters: Stanley Tucci, David SchechterCast: Stanley Tucci, Patricia Clarkson, Thijs Romer.
A married couple has suffered a tragedy, and now the only way they can relate to one another is by meeting as different characters through a series of personal ads. A remake of the original work by the late Dutch director Theo van Gogh.
World Premiere
BOTTLE SHOCK/ U.S.A.Director: Randall MillerScreenwriters: Jody Savin, Randall MillerCast: Alan Rickman, Bill Pullman, Chris Pine, Rachael Taylor, Freddy Rodríguez, Eliza Dushku.
The story of the early days of California wine making featuring the now infamous, blind Paris wine tasting of 1976 that has come to be known as "Judgment of Paris."
World Premiere
CHRONIC TOWN/ U.S.A.Director: Tom HinesScreenwriter: Michael KamskyCast: JR Bourne, Emily Wagner, Dan Butler.
A bittersweet slice-of-life comedy about a cab driver with substance abuse problems who weathers a cold Alaskan winter with his cadre of friends and lovers.
World Premiere
GOLIATH/ U.S.A.Director and Screenwriter: David ZellnerCast: David Zellner, Caroline O'Connor, Nathan Zellner.
Faced with a demotion, a pending divorce, and less-than-friendly neighbors, a man pins his hopes for salvation on finding his missing cat, Goliath.
World Premiere
A GOOD DAY TO BE BLACK & SEXY/ U.S.A.Director and Screenwriter: Dennis DortchCast: Kathryn Taylor, Valley Jones, Chonte' Harris.
Six progressive vignettes explore sexuality and relationships in the black community of Los Angeles.
World Premiere
LOVE COMES LATELY/ Germany/ AustriaDirector and Screenwriter: Jan SchütteCast: Otto Tausig, Rhea Perlman, Tovah Feldshuh.
An 80-year-old man continues to pursue his love life with youthful vigor, risking his relationship with the woman he loves. Based on the short stories by Isaac Bashevis Singer.
U.S. Premiere
MOMMA'S MAN/ U.S.A.Director and Screenwriter: Azazel JacobsCast: Flo Jacobs, Ken Jacobs, Dana Varon.
A man who has avoided his wife and child at home has a change of heart after an imposed stay in his own parents' loft.
World Premiere
QUID PRO QUO/ U.S.A.Director and Screenwriter: Carlos BrooksCast: Nick Stahl, Vera Farmiga, Kate Burton.
A paraplegic New York public radio reporter becomes involved with a mysterious woman while researching a story about able-bodied people who secretly yearn to be paralyzed.
World Premiere
RED/ U.S.A.Director: Trygve DiesenCo-Director: Lucky McKeeScreenwriter: Stephen SuscoCast: Brian Cox, Tom Sizemore, Kim Dickens.
An older, reclusive man's best friend and inspiration for living is his 14-year-old dog named "Red." When three troublesome teens kill the dog for no good reason, the grieving man sets out for justice and redemption by whatever means available to him.
World Premiere
The films screening in Spectrum: Documentary Spotlight are:
ANVIL! THE TRUE STORY OF ANVIL/ U.S.A.Director: Sacha Gervasi
At 14, best friends Robb Reiner and Lips made a pact to rock together forever. Their band, Anvil, hailed as the "demi-gods of Canadian metal," influenced a musical generation that includes Metallica, Slayer, and Anthrax, despite never hitting the big time. Following a calamitous European tour, Lips and Robb, now in their fifties, set off to record their 13th album in one last attempt to fulfill their boyhood dreams.
World Premiere
THE BLACK LIST/ U.S.A.Director: Timothy Greenfield-SandersScreenwriter: Elvis Mitchell
Journalist Elvis Mitchell interviews twenty African American leaders, ranging from athletes and academics to politicians, social activists, and artists, providing a series of living portraits-a unique glimpse into the zeitgeist of black America-and redefining traditional notions of a "blacklist."
World Premiere
KICKING IT/ U.S.A.Director and Screenwriter: Susan Koch
The lives of homeless people are changed forever through an international soccer competition. This film follows six players as they set off for Cape Town, South Africa to play in the Homeless World Cup.
World Premiere
THE LINGUISTS/ U.S.A.Directors: Seth Kramer, Daniel A. Miller, Jeremy NewbergerScreenwriter: Daniel A. Miller
David and Greg are "The Linguists," who document languages on the verge of extinction. In the rugged landscapes of Siberia, India, and Bolivia, their resolve is tested by institutionalized racism and violent economic unrest.
World Premiere
MADE IN AMERICA/ U.S.A.
Director: Stacy Peralta
Screenwriters: Stacy Peralta, Sam George
With a first-person look at the notorious Crips and Bloods, this film examines the conditions that have led to decades of devastating gang violence among young African Americans growing up in South Los Angeles.
World Premiere
WHERE IN THE WORLD IS OSAMA BIN LADEN?/ FranceDirector: Morgan SpurlockScreenwriters: Jeremy Chilnick and Morgan Spurlock
Filmmaker Morgan Spurlock explores every nook and cranny of the Middle East on a quest to find the world's most wanted man.
World Premiere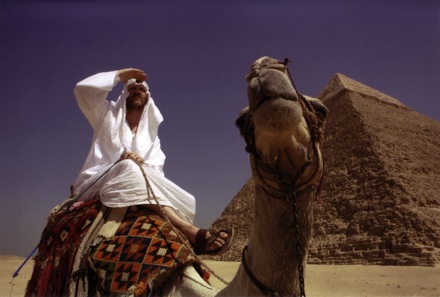 YOUNG@HEART/ United KingdomDirector: Stephen Walker
A choir of Massachusetts senior citizens delights audiences worldwide with their covers of songs by everyone from The Clash and Coldplay to Jimi Hendrix and Sonic Youth.