Sundance 2008 Photo Preview: Part 2 - US Dramatic Competition


The line-up for the 2008 Sundance Film Festival was announced earlier this week. I just got my hands on a boat load of photos from the films in this year's festival. We actually have too many photos to feature in just one posting, so we have divided this feature into a few parts.
Our second segment in the series takes a look at the films in the Dramatic Competition category. This year's 16 films were selected from 1,068 submissions. Each film is a world premiere. The list of films includes: American Son, Anywhere USA, Ballast, Choke, Downloading Nancy, Frozen River, Good Dick, The Last Word, The Mysteries of Pittsburgh, North Starr, Phoebe In Wonderland, Pretty Bird, Sleep Dealer, Sugar, Sunshine Cleaning, and The Wackness.
Also be sure to check out our Sundance 2008 Photo Previews for the Spectrum and Premieres.
Check out the photos after the jump. Click on the images to enlarge.
AMERICAN SONDirector: Neil AbramsonScreenwriter: Eric SchmidCast: Nick Cannon, Melonie Diaz, Matt O'Leary, Jay Hernandez, Tom Sizemore, Chi McBride.
Before being deployed for active duty, a young Marine takes a four-day Thanksgiving leave to return home to Bakersfield, California. There he meets a young woman, tries to connect with old friends, and confronts his volatile home life.
World Premiere
ANYWHERE, U.S.A.Director: Anthony (Chusy) Haney-JardineScreenwriters: Anthony (Chusy) Haney-Jardine, Jennifer MacdonaldCast: Perla Haney-Jardine.
Told in three segments ranging from satirical to tragic, the film is a wildly original look at American manners, prejudices, and family dynamics.
World Premiere
BALLASTDirector and Screenwriter: Lance HammerCast: Michael J. Smith Sr., Jim Myron Ross, Tarra Riggs, Johnny McPhail.
A riveting, lyrical portrait of an emotionally frayed family whose lives are torn asunder by a tragic act in a small Mississippi Delta town.
World Premiere
CHOKEDirector and Screenwriter: Clark GreggCast: Sam Rockwell, Anjelica Huston, Kelly MacDonald, Brad Henke.
An adaptation of Chuck Palahniuk's (Fight Club) novel, CHOKE is the sardonic story about mother and son relationship, fear of aging, sexual addiction, and the dark side of historical theme parks.
World Premiere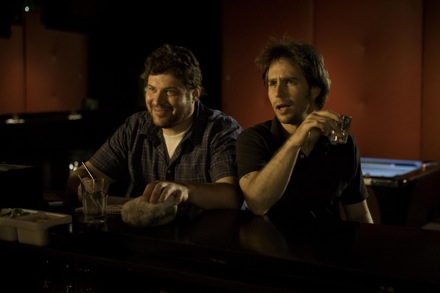 DOWNLOADING NANCYDirector: Johan RenckScreenwriters: Pamela Cuming, Lee RossCast: Maria Bello, Jason Patric, Rufus Sewell, Amy Brenneman.
The tale of an unhappy wife whose online search for someone to put her out of her misery results in a torturous love affair.
World Premiere
FROZEN RIVER
Director and Screenwriter: Courtney Hunt
Cast: Melissa Leo, Misty Upham, Charlie McDermott, Michael O'Keefe, Mark Boone, Jr.
Set in rural upstate New York on a Mohawk Reservation bordering Canada, a mother left to care for her teenage son finds herself lured into the world of illegal immigrant smuggling.
World Premiere
GOOD DICK
Director and Screenwriter: Marianna PalkaCast: Jason Ritter, Marianna Palka, Tom Arnold, Mark Webber, Martin Starr, Eric Edelstein.
The tale of a lonely girl drawn from her isolated life and solitary apartment by a doting young video store clerk who strives to capture her affections.
World Premiere
THE LAST WORD
Director and Screenwriter: Geoff HaleyCast: Winona Ryder, Wes Bentley, Ray Romano.
An off-beat romantic comedy about a solitary writer who makes his living composing other people's suicide notes. After meeting the sister of a recently deceased client, he finds his reclusive life and secret career upended by an unusual romance.
World Premiere
THE MYSTERIES OF PITTSBURGH
Director and Screenwriter: Rawson Marshall ThurberCast: Jon Foster, Peter Sarsgaard, Rawson Marshall Thurber, Sienna Miller, Mena Suvari, Nick Nolte.
Based on Michael Chabon's novel, the film chronicles the defining summer of a recent college graduate who crosses his gangster father and explores love, sexuality, and the enigmas surrounding his life and his city.
World Premiere
NORTH STARR
Director and Screenwriter: Matthew StantonCast: Jerome Hawkins, Matthew Stanton, Chris Sullivan, Isaac Lamb, Zach Johnson, Wayne Campbell.
fter witnessing the brutal murder of his best friend, a young African American man flees the badlands of Houston and finds himself in Trublin, a backward, racially intolerant town where he meets an unlikely kindred spirit who takes him under his wing.
World Premiere
PHOEBE IN WONDERLAND
Director and Screenwriter: Daniel Barnz
Cast: Elle Fanning, Felicity Huffman, Patricia Clarkson, Bill Pullman, Campbell Scott, Peter Gerety.
Confounded by her clashes with the seemingly rule-obsessed world, a little girl takes her already dysfunctional family down the rabbit hole when she seeks enlightenment from her unconventional drama teacher.
World Premiere
PRETTY BIRDDirector and Screenwriter: Paul SchneiderCast: Billy Crudup, Paul Giamatti, Kristen Wiig, David Hornsby.
A comic tale of three would-be entrepreneurs who set out to invent a rocket belt. The clash of their mismatched personalities soon dissolves the business into a morass of recriminations, retaliations, kidnapping, and murder in this parable of American dreams and delusions.
World Premiere
SLEEP DEALERDirector: Alex RiveraScreenwriters: Alex Rivera, David RikerCast: Luis Fernando Peña, Leonor Varela, Jacob Vargas.
Set in a near-future, militarized world marked by closed borders, virtual labor and a global digital network that joins minds and experiences, three strangers risk their lives to connect with each other and break the barriers of technology.
World Premiere
SUGARDirectors and Screenwriters: Anna Boden, Ryan FleckCast: Algenis Perez Soto.
Anna Boden and Ryan Fleck, who last teamed up for HALF NELSON, chronicle the journey of Dominican baseball star Miguel "Sugar" Santos recruited from his native country to play in the U.S. minor leagues.
World Premiere
SUNSHINE CLEANINGDirector: Christine JeffsScreenwriter: Megan HolleyCast: Amy Adams, Emily Blunt, Steve Zahn, Alan Arkin.
Struck by financial hardship, an ambitiousmother and her unmotivated sister become entrepreneurs in the field of biohazard removal and crime scene clean-up.
World Premiere
THE WACKNESS
Director and Screenwriter: Jonathan LevineCast: Josh Peck, Ben Kingsley, Famke Janssen, Olivia Thirlby, Mary Kate Olsen, Method Man.
During a sweltering New York summer, a troubled teenage drug dealer trades pot for therapy sessions with a drug-addled psychiatrist, and in the process falls for the doctor's daughter.
World Premiere