First Look: Seth Rogen And James Franco In The Pineapple Express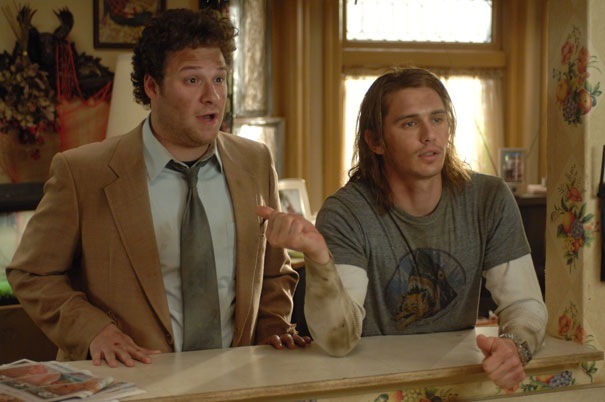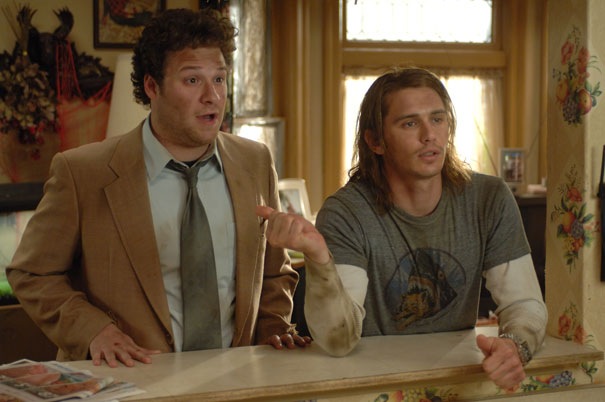 According to Wikipedia, the Pineapple Express is a non-technical, shorthand term popular in the news media for a meteorological phenomenon which is characterized by a strong and persistent flow of atmospheric moisture and associated heavy rainfall from the waters adjacent to the Hawaiian Islands and extending to any location along the Pacific coast of North America.
And there is the upcoming Judd Apatow-produced move of the same name, but but otherwise, completely unrelated. Written by Seth Rogen and Evan Goldberg, the superstar team behind SuperBad, The Pineapple Express is about a stoner (Rogen) process server named Dale Denton and his dealer (James Franco) Saul are who forced to go on the run from the police and gang leader (Gary Cole), after Dale witnesses a corrupt cop (Rosie Perez) commit a murder. So why is it called The Pineapple Express? Saul is selling a new type of pot known as "Pineapple Express."
Malick-influenced indie filmmaker David Gordon Green is well known for his critically acclaimed dramatic films, George Washington, All The Real Girls, ad Snow Angels. The Pineapple Express will be his first real departure.
Check out the first photo from the film above. James Franko is looking more like his Freaks and Geeks character, and Seth Rogen is... well, Seth Rogen in a suit. There will be an exclusive sneak peek of this film attached to the Superbad DVD, which hits store shelves on December 4, 2007.
The Pineapple Express hits theaters on August 8th 2008.
via: filmz