Must Watch: Juno International Movie Trailer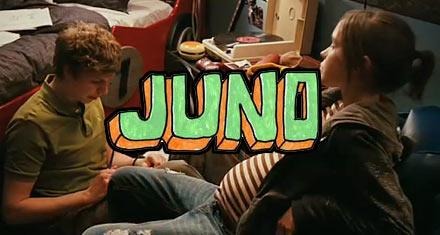 Earlier today I penned an article finally declaring Juno the best movie of the year, defeating Paul Thomas Anderson's There will Be Blood in a near even fight. As much as I love the movie, I have been less than happy with the film's marketing thus far. Just look at the poster for a good example of what I'm talking about. It's not bad, but it just isn't great either. Fox should have teamed with the company that created the rotoscoped colorpencil-animated opening title sequence.
And while the first movie trailer for Juno got the look, feel and music right, I felt that they didn't do justice in the area of comedy. Thankfully, Fox Searchlight has released a new international trailer which is quite the polar opposite. It gets the music and look entirely wrong (what's with the cheesy superimposed text asides? And how could they exclude The Moldy Peaches song?), but it instead nails home the sharp witty pop-culture infused dialogue from Diablo Cody's script. Check out the new trailer after the jump.
[flv:http://media2.slashfilm.com/slashfilm/trailers/junoint.flv 470 256]