FightCast - Round 1: Hitman And The Mist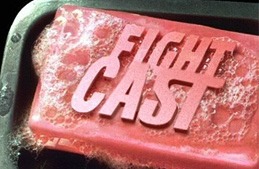 The life of a movie journalist isn't nearly as exciting as one might expect. I spend most nights traveling to and from screenings, and I often find myself on the phone with my good friend and fellow journalist Alex Billington, who runs FirstShowing. We usually have very different opinions on movies and have always joked about hosting a podcast called FightCast, where we would fight it out over our movie views. After a year of talking, we've decided to start recording these conversions and put it online for you to listen. And that is what this is, two friends fighting it out over the latest movie releases. Ready for Round 1?!
If you're looking for high production value, look elsewhere. This isn't even a show, it's a conversation between two film geeks. We're still working out the kinks on this whole podcast, but we're excited to launch the very first episode.
In this week's FightCast, we battle it out over Hitman and The Mist, two big Thanksgiving films that opened just yesterday. Hitman is an R-rated action flick based on a video game that stars Timothy Olyphant and is directed by Xavier Gens. The Mist is a horror, thriller based on the Stephen King novel and is directed by Frank Darabont.
Listen Now:
Download Fight Cast – Round 1!
RSS Feeds:
Coming Soon!
We don't have official FightCast RSS feeds just yet, but stay tuned as we'll get them up and running very soon!
Within the next few weeks after today's launch we'll be starting a specific website just for the FightCast. Updates will be posted there and also linked to from here. For now, continue to follow the updates on here and on FirstShowing. We hope you enjoy the very first episode of Fight Cast.