Cloverfield Monsters NOT Revealed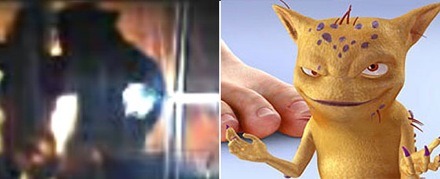 Last week we ran a joke image (seen above) which our friends at Vulture created, which revealed the Cloverfield monster as the Lamisil Toenail Goblin. The image from the trailer can be seen below. It appears that two small goblin monsters are attacking a young woman. Right before the clip cuts away, it appears that the monster on the right bites into the woman. But truth be told, the small Cloverfield monsters don't ever appear in the new trailer.
One of the production photos published in Blackbook Magazine shows you what is really going on. Check out the photo, after the jump.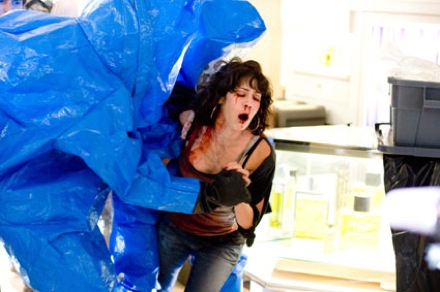 Whomever cut this trailer did a great job of making the audience believe that the men in blue has-mat suits were little monsters. Most everyone I talked to who had seen the trailer in the theater was completely fooled. But now the truth is revealed. As for the real Cloverfield Monster, he only appears for a few frames near the 1:30 mark. Check out the photo below thanks to /Film reader Ig Foley.