Justin Marks Talks He-Man Movie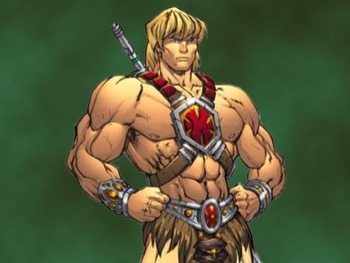 Toyfare Magazine has an interview in their latest issue with screenwriter Justin Marks concerning his adaptation of He-Man and the Masters of the Universe. Marks, who co-wrote the screenplay with Neil Ellice says that they have created "a take that we all really loved and that we felt would be true to Eternia for the first time." Marks plans to reboot the franchise in the same way that Batman Begins rebooted The Dark Knight.
"There are no invented new characters plopped into it-and if we and Mattel have our way there will never be. We're talking about the He-Man mythology. So what we're talking about doing, in the same way as Batman Begins, we're going back to the original thing, let's build it from the ground up again. How can we find our way in? How can we jump into Adam's life at an interesting point where new audiences will respect him? It's an Adam origin story, and it's a Skeletor origin story. We want to see where both of them come from and how they got that way. If we don't see the humanity and the truth in what Skeletor's trying to do, then the story's not compelling."
Marks successfully wades through questions, in an attempt to reassure fans of the series, months after rumors leaked to the internet caused major noise in fanboy circles. It was previously reported that Marks vision was going to stray far from the traditional He-Man mythology. But Marks says that is not the case at all.
"There's some stuff going around...we should clear that up. There's some rumor spreading that he's a soldier in the Iraqi war. Where did they get that? This is an Eternian movie and it's a story about an Eternian hero. We're not going to Earth, here. We're not going to the modern world. We're not going to a strip mall in the Valley. [Laughs] By the way, I think there are really great things about the original Masters of the Universe."
"He-Man is sword-and-sandals meets science fiction. If you avoid it and just try to make it sword and sandals, then it becomes a boring movie. If you just try to make it science fiction, it's going to be really kitschy and weird, and it's not going to be true to He-Man. You have to make it both. So we have to come up with specific ideas, grounded, that would spawn a world that was people carrying around swords, and yet, guys like Tri-Klops running around with his spinning visor and this sort of nano-technological way about him. What is the sorcery that can create stuff like that?
"When this movie comes out-and hopefully some day it will, because things look really stacked in its favor after Transformers-people will watch this movie and say, "I can't believe it took this long for a He-Man movie to get to the screen," because of how naturally the original material suits itself to a great, Lord of the Rings-scale-and yet high-tech-cool movie."
Marks also revealed that he pitched the movie to Mattel as a trilogy of movies, a potential franchise.
"We got in the room and we basically spoke through not only one movie, but three movies, all the way down through our dreams for the titles for the second and third movies and which characters appeared when."
Thanks to IESB for the interview transcript