Guy Ritchie's Revolver Movie Trailer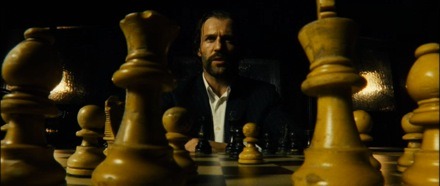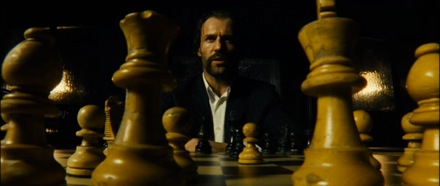 Guy Ritchie was a cult phenomenon. He rocketed onto the scene with Lock, Stock and Two Smoking Barrels, and soon after created Snatch, which is on the top 10 list of most 20-something film fanatics. But the filmmaker's career took a nose drive shortly after marrying Madonna (coincidence? I think not). Ritchie is back with a new gangster film starring Ray Liotta, Jason Statham, Vincent Pastore, Andre 'Andre 3000' Benjamin and Terence Maynard.Revolver looks to be exactly what it promises to be, a return to form. I love the close-up gliding shots of the chess game.
[flv:http://media2.slashfilm.com/slashfilm/trailers/revolver.flv 470 200]
Official Plot Description: Gambler and conman Jake Green (Jason Statham) always ran with a bad crowd and it cost him seven years of his life when he took the rap for mean Dorothy Macha (Ray Liotta) and wound up in jail. After his release, Jake becomes unbeatable at the tables using a formula for the ultimate con that he learned from two mysterious fellow prisoners. Now he is ready to take his revenge. Macha is plotting to eliminate his ruthless rival, Lord John, and has staked his credibility on a huge drug deal with the all-powerful Sam Gold. Jake visits Macha at his casino and humiliates him publicly in a game of chance. Macha fearing more of the same medicine sends his goons to "take care of" Jake. His life is saved by enigmatic Zach (Vincent Pastore) who, with his equally inscrutable partner Avi (André Benjamin), offers Jake protection. Against his better judgment, Jake accepts. He soon finds himself playing the very last game he wants to be playing, and there is danger at every turn. But the biggest danger of all comes from a totally unexpected source…
Don't mistake this movie with Ritche's RocknRolla, which is currently in production. Ritche shot Revolver in late-2004, and while the film premiered at the 2005 Toronto Film Festival, and has had a theatrical run and dvd release in other parts of the world, America has yet to see it.
Watch the trailer in High Definition on Yahoo! Movies. Revolver hits theaters on December 7th 2007.