See There Will Be Blood Early In Los Angeles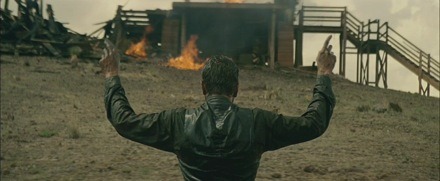 You watched the trailer, you read the review, and now you have another chance to see Paul Thomas Anderson's There Will Be Blood.
Live in Los Angeles? Paramount Vantage, Back Stage West, and The Hollywood Reporter are sponsoring a small screening in La La Land on Thursday, November 15th at 7:00pm (Leonard H. Goldenson Theater, 5220 Lankershim Blvd.). The screening will be followed by a Q&A with Anderson and star Daniel Day-Lewis. Admission is free but you must RSVP, call (323) 956-1006. Seating is VERY limited, so if you get on the RSVP list, arrive extremely early.
This is a movie you don't want to miss. I saw it earlier this week, and LOVED it. Daniel Day-Lewis doesn't make many appearances like this, making this screening all the more worth attending.
There Will Be Blood hits theaters on December 26th 2007.