There Will Be Blood Review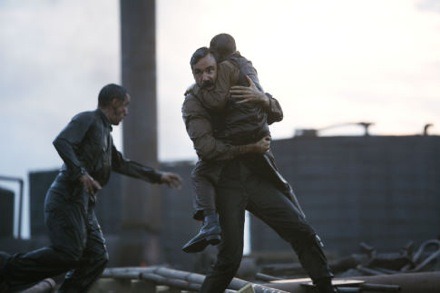 I flew back from the junket-filled weekend in Los Angeles to attend a super special screening of Paul Thomas Anderson's There Will Be Blood at the famous Castro Theater in San Francisco. There were no advance ticket sales, only cash at the door, with the proceeds going to charity. One fan waited in line from 7:30am to see the film, and when I arrived at 5:30pm for the 7:30pm screening, the line was down the street, and around the block, into a parking lot behind the theater.
This event wasn't open to traditional press, so it was interesting to see all the die hard San Francisco movie press in line with the rest of the fans, with purchased tickets in hand. PTA was also in attendance, and this was the second public screening of this film (from what I can tell, there was also a very small trade screening). So everyone was very excited to see the film.
I must first say that I'm a huge fan of Paul Thomas Anderson's work. Magnolia is one of my favorite movies of all time. I love how he tells a story. I love the performances he gets out of his actors/actresses. And from someone who comes from a filmmaking background, I love his cinematic style (the steadicam tracking shots...etc). That said, I hate westerns. And while There Will Be Blood is not technically a western, my good friend and fellow critic Mel Valentin assured me that for all this was a western without the traditional cowboy characters. The early trailers for this film also showed a much less stylized film than anything Anderson has ever made before. And while I was very excited to see There Will Be Blood, I was also nervous that the film might not be what I wanted from a PTA film.
The least interesting thing about There Will Be Blood is the fact that there is very little blood on screen during the film. As a /Film Reader pointed out after the film, the film is Rated R for only "some violence", and not "grisly violence and gore, terror, language" which is why a movie like SAW II (which used "Oh, yes. There will be blood" as a tagline) earned an R Rating.
The movie is follows Daniel Day-Lewis as a driven and misanthropic oilman. Many people are comparing the story to Citizen Kane, and others are comparing it's style to Kubrick, and while I see how the comparisons could fit, There Will Be Blood is like no other film you have ever seen. It's a hard sell, especially with the two and a half hour running time, to watch a man that isn't very likable. But Lewis makes you care for this man, and will likely earn a Oscar nomination for his work in this film. The first 15-20 minutes of the film are played without dialogue. It's not a gimmick, Day-Lewis brilliantly emotes and tells a story through his facial expressions and physical actions. It is something that needs to be seen to be believed.
And you'll hear me throw out the words "Oscar nomination" a few times in this mini-review, and know that I'm not just doing so for the sake of hype – Paramount Vantage has at least a few tickets to the Academy Award because of this movie. One of the few things I disliked about Little Miss Sunshine was Paul Dano's outburst. It seemed very forced, a lackluster performance compared to the other crayons in the box. But in Blood, Dano gives a best-supporting nomination worthy performance as Eli Sunday, the bible-thumping mirror image to Day-Lewis' character. PTA will likely get nominated for best screenplay adaptation, going up against Ben Affleck's Gone Baby Gone.
Johnny Greenwood's over-the-top manic and intense experimental style score is so very perfect for this film. I want to buy this on CD and listen to it over and over. I've always felt that Greenwood was the real genius behind Radiohead's sound. If Greenwood doesn't take home a bunch of gold statues for this project, than something is seriously wrong.
And sure, the stylish cinematography is missing from Anderson's latest work, but Blood shows the work of a matured filmmaker who doesn't need to perform magic tricks to get our applause. Every camera move is confident and deliberate. There are dolly, crane and steadicam shots, but they are almost unnoticeable, and instead perfectly blends as part of Anderson's storytelling.
I want to write more about There Will Be Blood, but sadly I don't have enough time. I'm also so taken away with this film that I find myself unable to express my feelings in words. I want to experience this film again to gain some perspective. And I hope to write more about the film closer to its release in late December. There Will Be Blood might have knocked Juno off the top of my list to become the best film of the year. I can't say this yet however, I need to see it again. I have a feeling that Juno will allow for multiple viewings, where Blood might be a story that you might not want to experience very often (like, for example, Darren Aronofsky's Requiem for a Dream).