Sylvester Stallone's Death Wish Remake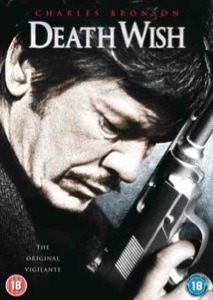 Just got back from LA, and caught the super special screening of There Will Be Blood last night in San Francisco (more on that later). But for right now I'm going to attempt to catch up on some of the news items I missed in the last 24 hours. First up...
Sylvester Stallone is going direct and star in a remake Death Wish for MGM. The original 1974 film starred Charles Bronson as Paul Kersey, a New York Architect and bleeding-heart liberal whose world is suddenly torn apart after the murder of his wife and the rape of his daughter. Kersey returns to New York City with a vengeance against crime, becoming a vigilante who kills would-be muggers on the mean streets after dark. The film was based on a novel by Brian Garfield, which not-so-coincidently is the same author of Death Sentence, which was adapted to the big screen by James Wan earlier this year. Death Wish spawned four sequels, none of which are said to be any good.
Terminator 3 and Terminator Salvation: The Future Begins scribes Michael Ferris and John Brancato have been hired to write the script (presumably after the writers strike ends, whenever that may be).
I love a vigilante film more than the next guy but I'm not quite sure the guys who wrote Terminator 3 are the right guys to remake this type of film. And while I'm not totally against Sly (hell, I LOVED Rocky Balboa), I think he can only work in certain movies and certain situations. And there is no guarantee that some of those movies will even be good (which seems to be the case with Rambo 4, again, I could be wrong). And I must admit that if handed right, this is the perfect film for Stallone. But it nights to be done gritty, and not over the top.
source: Variety