The Rock Turns Down Cameo In The Scorpion King 2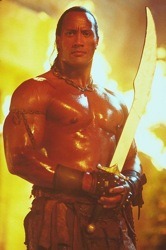 Dwayne "The Rock" Johnson told me today during the Southland Tales Junket that he was offered a role in the Scorpion King sequel, The Scorpion King: Rise of the Akkadian.
"They came to me and asked for a cameo but I passed on it."
The Rock also confirmed that he will not be featured in Rob Cohen's The Mummy: Tomb of the Dragon Emperor.