There Will Be Blood: Early Reviews, New Movie Trailer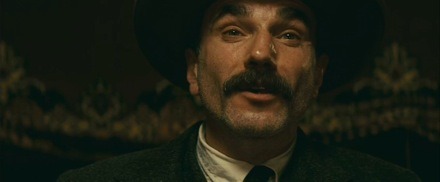 Last month an early trailer for Paul Thomas Anderson's There Will Be Blood hit the internets, although not many people saw it (probably because it was on and off MySpace within minutes). Paramount Vantage has released a new theatrical trailer for the film, which can be viewed after the jump.
But before you check that out, read some of these glowing quotes from a few early reviews which hit the web this week.
Variety's Todd McCarthy: "an obsessive, almost microscopically observed study of an extreme sociopath who determinedly destroys his ties to other human beings."
Icontention.com: "There Will Be Blood might be one of the most fascinating films ever crafted. It is operatic and sinister, all at once beautiful and magnetic in its depiction of a deplorable human being through and through."
Anne Thompson: "brilliantly written, acted, directed, mounted and scored.""In some ways the movie is a companion piece to Michael Moore's Bowling for Columbine. Americans are a remarkably violent people." "Cinephiles will revel in this. As a writer-director, PTA will earn the respect of critics and peers. But a wide-audience spectacle this is not." "There Will Be Blood's greatest achievement is Day-Lewis's performance."
Hopefuly I'll get a chance to see the film on Monday night, so keep checking back for my thoughts. New Trailer after the jump.
[flv:http://media2.slashfilm.com/slashfilm/trailers/therewillbebloodofficial.flv 470 194]
Check out the new trailer in High Definition on Apple.com. There Will Be Blood hits theaters on December 26th 2007