Wanted Movie Trailer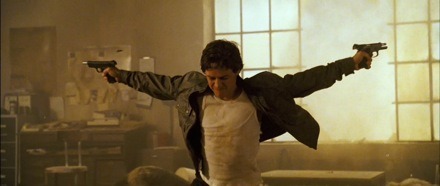 Universal has released the movie trailer for the big screen adaptation of Mark Millar's graphic novel Wanted.
Aside from the terrible dialogue, Angelina Jolie's overuse of eye makeup, and easily comparisons to The Matrix (read: many consumers will call this a Matrix ripoff), the trailer features a few interesting action moments. But all in all, I was expecting more for acclaimed visual director Timur Bekmambetov, who is best known as the creator of the Night Watch series. This Wanted trailer will be attached to American Gangster on Friday, but watch it now below.
[flv:http://media2.slashfilm.com/slashfilm/trailers/wanted.flv 470 200]
Based on the Mark Millar graphic novel, Wanted follows a young man (James McAvoy) who finds out his long lost father is an assassin. And when his father is murdered, the son is recruited into his father's old organization and trained by a man named Sloan (Morgan Freeman) to follow in his dad's footsteps. Angelina Jolie, Terence Stamp and Common also star.
The trailer can also be viewed in High Definition on Yahoo! Movies. Wanted hits theaters on March 28th 2008.