G.I. Joe: George Clooney As Duke? Screenwriting Rumors And Hasbro's Official Statement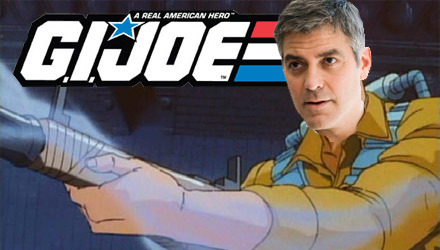 Casting Rumors, Screenwriting rumors and official statements, a lot has been happening with the big screen adaptation of G.I. Joe.
First up is a rumor from our friends at IESB: Paramount Pictures has offered the role of Duke to George Clooney. Apparently the big screen star walked away from Joe Carnahan's White Jazz not only due to scheduling conflicts, but because Clooney is looking for a big blockbuster. Who knows if any of this is indeed true or just Hollywood gossip, and even so, who knows if Clooney would be interested in staring in a G.I. Joe movie. The idea could translate into a really really horrible film, so I've assumed that big Hollywood stars would stay far away from such a project. But with Transformers breaking out huge, more big name stars might be willing to take a chance on a project like this. And besides, Clooney put on the nipple-added batsuit with no problems, so he's not beyond looking stupid in a big screen blockbuster.
The Hollywood Reporter claimed yesterday that Paramount had asked for three different scripts from three different writers (Stuart Beattie, John Lee Hancock, and Brian Koppelman and David Levien) for G.I. Joe, and "will perhaps combine the best parts from each one." Apparently that is not true. Hancock and Koppelman/Levien were actually brought on board to polish certain scenes from Beattie's draft before the WGA strike deadline tomorrow.
Meanwhile, Hasbro has posted a statement for fans, hoping to clarify some of the facts behind the development of the live action film.
Hasbro's G.I. Joe Team wanted to take this opportunity to clarify some of the facts regarding the G.I. Joe live-action movie that we are developing with Paramount Pictures.
First and foremost, we are not changing what the G.I. Joe brand is about.  The name "G.I. Joe" will always be synonymous with bravery and heroism.
The G.I. Joe brand has enjoyed a successful 43-year history, spanning two key generations.  The first was the line of 12-inch "realistic military" figures that were popular with kids in the 1960s and 1970s.
The second generation, was created in 1982, and is based on a cast of fictional heroes and villains that make up the "G.I. Joe vs. Cobra" fantasy.  The premise of this fantasy is the story of the G.I. Joe team, led by Duke, and their "fight for freedom wherever there is trouble" against the evil Cobra Commander and his Cobra force.  This storyline was an instant hit with kids in the early 1980s, spawning a highly popular 3-3/4-inch action figure line, comic book collection and animated series.
This movie will be a modern telling of the "G.I. Joe vs. Cobra" storyline and its compelling characters that Hasbro created 25 years ago.  The G.I. Joe team will not be based in Brussels.  Instead, they will be based out of the "Pit" as they were throughout the 1980s comic book series.  And, in keeping with the G.I. Joe vs. Cobra fantasy, the movie will feature characters and locations from around the world.  Duke, the lead character and head of the G.I. Joe team, will embody the values of bravery and heroism that the first generation of G.I. Joe figures established.
G.I. Joe is a very important property to Hasbro and we thank all of our fans for their enthusiasm.  Without all of you, the brand would not be where it is today.
Thank you.
GI Joe is expected to start production in February with an estimated budget of around $160 million. The movie will hit theaters in 2009.