New Juno Movie Poster

Fox Searchlight has released a new poster for Jason Reitman's Juno (which as yout already know, I loved loved LOVED). The poster that was released last month was a film festival exclusive. I'm glad they came up with something a little more attractive. I'm still not digging the orange and white stripe theme, and wish they did more with the hand drawn theme (see logo). The new poster features a quote from Roger Ebert:
"A Fresh, Unusually Intelligent Comedy With Dialogue So Quick And Funny You Feel The Actors Are Preforming It On A High Wire."
Check out the new poster after the jump.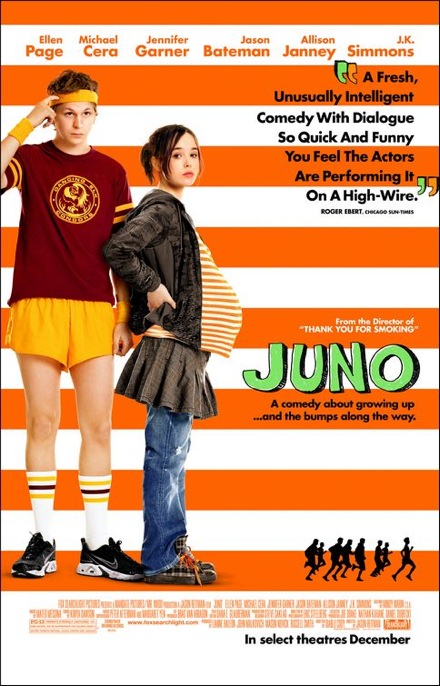 Here is a round up of our previous Juno coverage:
Jason Reitman's JUNO stars Ellen Page as the title character, a whip-smart teen confronting an unplanned pregnancy by her classmate Bleeker (Michael Cera).  With the help of her best friend Leah (Oliva Thirlby), Juno finds her unborn child a "perfect" set of parents: an affluent suburban couple, Mark and Vanessa (Jason Bateman and Jennifer Garner), longing to adopt. Luckily, Juno has the total support of her parents (JK Simmons and Allison Janney) as she faces some tough decisions, flirts with adulthood and ultimately figures out where she belongs.
Juno hits theaters on Wednesday, December 5th in New York and Los Angeles (expanding on a platform release in the subsequent weeks).
via: IMPA