Brett Ratner Won't Escape From New York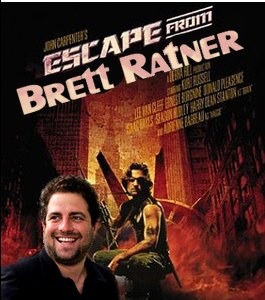 The good guys at AintitCool have some great news tonight – Bret Ratner is NOT directing the Escape from New York remake! Did you read that? The Ratner is not going to ruin the Snake Pliskin after all!
Apparently the Rush Hour "director" (notice the obvious quotation marks) was given an "achievement in cinema" award at the Savannah Film Festival. Basically, it's one of those film festival awards where whoever they can get to show up gets an award (a lot of regional film festivals play this game). Anyway, Ratner was asked about the Escape remake, and said that it is happening, but without him attached.
We have no idea who will be replacing Ratner. All we do know is that 300 star Gerard Butler is attached to the project at New Line. Len Wiseman was attached to the project before these Ratner rumors sprung up. With budget problems forcing Gears of War into development hell (or maybe just development heck), maybe Wiseman will find time to Escape From New York after Underworld 3: The Rise of the Lycans wraps. Or maybe New Line will be able to secure a more capable director. I'd love to see someone like Robert Rodriguez, Michael Bay or Guillermo del Toro tackle this remake.