Jerry Bruckheimer Revamps The Lone Ranger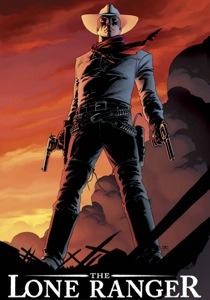 And who said the Western wasn't making a comeback? The writing team behind Pirates of the Caribbean (yes, the whole series, not just the first movie) have reteamed with super-producer Jerry Bruckheimer for The Lone Ranger.
Adapted from the 1930's radio show, which later became a popular live-action television show in the 1950's. The Lone Ranger is a masked Texas Ranger in the American Old West, who gallops about righting injustices, usually with the aid of a clever and laconic American Indian sidekick called Tonto, and his horse Silver. He would famously say "Hi-yo Silver, away!" to get the horse to gallop. Hollywood has tried to remake the Lone Ranger twice now, a 1981 film titled The Legend of the Lone Ranger and a 2003 WB television movie/pilot, both of which were not well accepted.
Disney won't confirm the project (of course) but Entertainment Weekly says that Terry Rossio and Ted Elliot are "trying to create a new juggernaut for Bruckheimer to exploit", and this is it. But to me, The Lone Ranger seems too goody goody for modern day kids to accept. The whole western world seems to bore most children. But then again, I also said that a movie based on a Disney theme park ride would probably be a huge failure (and Pirates, and the series it off shot, was quite the opposite... at-least financially).
So which actor should play the new Lone Ranger?
sources: EW, Wikipedia