Child's Play Remake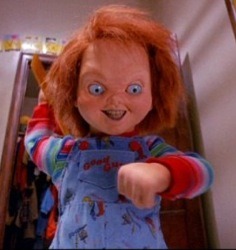 Any who had a MyBuddy when they were a child, was terrified of the Chucky films (Yes, even though at times the animatronics were rather lame). But I think even most Horror fans lost interest in the series before The Seed of Chucky was even conceived.
My friend Alex at FirstShowing was at the Martian Child junket where producer David Kirschner revealed that they are working on a all-out remake of the first Chucky movie, Child's Play. The film has not yet been given the greenlight, in fact, it's just being written now (by Child's Play screenwriter Don Mancini), but Kirschner promised that it would definitely be "more terrifying" than the previous films. No director is attached.
If this Child's Play remake does get off the ground, it will be interesting to see if they use anamatronic puppets or a computer generated Chucky. My suggestion is that they use a mix, using the CG mostly for the action sequences. The Chucky movies kind of became a parody of themselves, and I'm not sure if anyone from the new generation actually takes them seriously. So I'm curious to see how people may react to a more horror/thriller orientated remake. But the real question is: should they even be making a remake at all? Rob Zombie's Halloween was bashed by most fans and newcomers because while it did add some back-story to the Michael Myers character, it also took away from his mysteriousness.