Harry Potter: JK Rowling Reveals Dumbledore Was Gay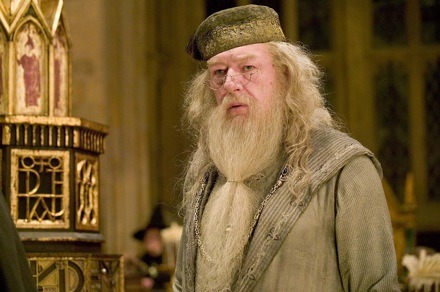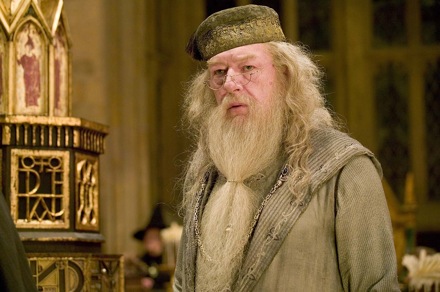 I've read all of the Harry Potter novels (although, I've yet to finish the last one) and have seen all the Harry Potter films, yet the sexual preference of one of the main characters is a shocking twist that I nor Hardcore Harry Potter fanatics ever expected.
JK Rowling revealed at a book reading in front of over 2,000 fans at Carnegie Hall in New York that the headmaster of the wizarding school Hogwarts School of Witchcraft and Wizardry, Albus Dumbledore, is actually gay. Who woulda thought? Rowling said that the character originally fell in love with the wizard Gellert Grindelwald, who, according to Rita Skeeter's book The Life and Lies of Albus Dumbledore (read: not very reliable), is the second Most Dangerous Dark Wizard of All Time, under of course, Lord Voldemort.
In Harry Potter and the Deathly Hallows it was revealed that Grindelwald was an adolescent friend of Albus Dumbledore and that the two of them planned to establish a new world order, where wizards would rule over Muggles "for the greater good". An argument culminated in a three-way battle between Albus, Aberforth Dumbledore, and Grindelwald in which Albus' disabled sister Ariana was inadvertently killed by one of them. Grindelwald fled, fearing retribution, which ended their friendship. In 1945, Dumbledore defeated Grindelwald in what is described as the most intense wizarding battle ever to occur.
"Falling in love can blind us to an extent," Rowling said of Dumbledore's feelings. "He was horribly, terribly let down." She referred to this love as Dumbledore's "great tragedy."
Rowling went on to reveal that she had recently read through Steve Kloves' script for the upcoming movie adaptation of Harry Potter and the Half-Blood Prince and came across a scene in which Dumbledore was reminiscing about past loves. Rowling says she crossed out the passage and noted "Dumbledore is gay" in the margin.
The audience fell silent, and then after a moment, Carnegie Hall exploded into applause. Rowling said that if she had known that her admission would get that type of response, she would've revealed her thoughts on Dumbledore earlier.
Dumbledore is portrayed in the film adaptations by Richard Harris and Michael Gambon.