New Rambo Title, New Rambo Poster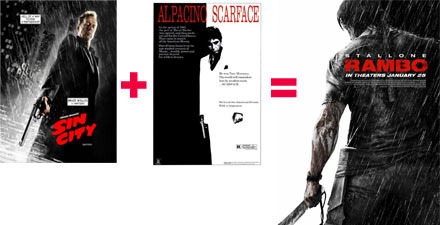 Rambo to Hell and Back has now been retitled (yes, AGAIN) as "Rambo". Apparently Sylvester Stallone didn't like "John Rambo" because that signified the last of a series. And according to Sly, there will likely be more Rambo movies. I think I like this title best. It's simple, yet says everything. Plus the first Rambo film was actually titled First Blood, so it works without ruining the title sequencing. The guys at FilmDrunk think the poster looks like a mixture of Scarface and the Bruce Willis Sin City poster, and I would tend to agree. Check out the poster after the jump.
Rambo hits theaters on Janury 25th 2008.
source: IGN